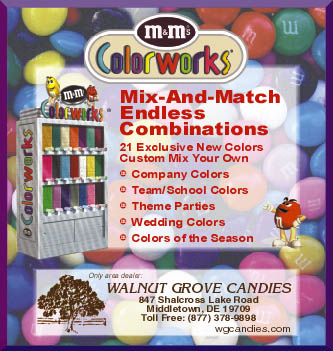 Client:
Walnut Grove Candies
Publication:
Delaware Today
Program:
March, April, May of 99
Program Extended:
June, Guide to DE, Oct. of 99
Description:
The Color Works Logo, the M&M guy and the display case are copyrighted by the M&M Mars Company. The Color Works logo was recreated in Corel and finalized in Photoshop. The other 2 were provided from literature. The background photo was taken taken with Fuji 100 speed film f/60 on a photo copy stand. All images were compiled in Photoshop and taken to Illustrator. All type was set in Illustrator.